There are many reasons to consider a kitchen remodel. While it may be tempting to spend money you don't have, you'll need to consider what you can afford and how much it will increase the value of your home. Kitchen Remodeling increases the value of your home, it will only pay for itself if you can recoup the cost of the renovations. In addition, it will likely increase the sale price of your home.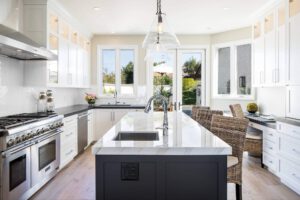 Many people choose to remodel their kitchens because they feel crowded and outdated. However, a well-designed, modern kitchen will attract potential buyers and increase the value of your house. Whether you want a modern kitchen with more storage space, a more efficient layout, or more counter space, a kitchen remodeling project is a great way to add value to your home. You can choose a design that will meet your needs or hire a home remodeling contractor to help you achieve the look you're going for.
If you're looking to save money, you can choose to replace some things yourself. Paint your appliances or add new lighting. These are both cheaper alternatives to brand-new appliances. If you can't afford to pay for expensive materials, you can save money by using existing space or replacing cabinets with high-quality ones. You may also opt to replace some hardware with less expensive versions. Choosing high-quality materials will also ensure your kitchen remodel will retain its value.
A kitchen can be a stressful task if you don't know where to begin. It is crucial to consider every option, including DIY. Whether you decide to hire a general contractor or a subcontractor, it is important to consider how much money you can save. While hiring a general contractor is the most convenient option, it comes at a price. If you want to save money on a kitchen remodel, consider serving as your own general contractor, hiring a subcontractor, or tackling some of the tasks yourself.
If you're not sure whether to hire a professional, consider getting a kitchen remodel estimate. The average cost of a complete kitchen remodel is about $23,000, according to a survey. If you're unsure about the costs involved, make sure to get at least three estimates to compare prices. That way, you can determine if you're willing to spend the money necessary to improve your kitchen.
Besides changing the layout of your kitchen, you can also change the electric appliances. Energy-efficient gadgets such as LED models can reduce your energy bills. This will also increase the efficiency of your house. According to reports, when remodeling a kitchen, it's essential to pay attention to the details and make your kitchen more environmentally friendly. This is why you should consider the materials you use for kitchen remodeling. The following are some of the most popular kitchen remodeling ideas:
One of the most important considerations when undergoing a kitchen remodel is whether you can afford it. While remodeling a kitchen can be an expensive and unpleasant experience, it can be done within a reasonable budget. If you don't have enough money to pay for the entire renovation, you might want to consider waiting until you have saved up more money. You can also finance the project if you need to. And if you don't want to use up all of your savings, you can also consider using a credit card or a home equity line.
Another important consideration when renovating a kitchen is its functional layout. Whether you are preparing a meal or hosting a family dinner, the kitchen is one of the most used rooms in the house. It makes it feel cozy and inviting, as well as reminds us of our family meals and socializing. By remodeling your kitchen, you can increase the value of your home while adding to the value of your property. If your kitchen layout is outdated and doesn't suit your needs, it may be time to renovate it.
If you're planning to sell your home, consider a kitchen remodel. If you can, you'll get a significant return on your investment from the project. But do remember that a kitchen remodel will not increase the value of your home 100%. If you're planning on selling, a $30,000 investment won't translate to an $85,000 increase in your home's value. However, a minor midrange remodel will yield a 50 to 85 percent return on your investment.