When laying a concrete driveway, it is important to start with a base of crushed rock or gravel. Using vibratory plate compactors or rammers, compact the gravel or soil. Once the base is prepared, lay out the concrete forms and stake them at regular intervals. Then, use the specialized tools to assemble the forms and anchor them. The concrete forms will help to hold the concrete in place when it is poured.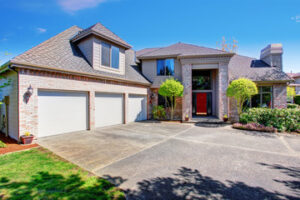 The total cost of your concrete driveway will increase if the length is longer than the width and depth. If you're planning to have a driveway that is 20 to 40 feet long, you can multiply the length by 1.7. To calculate the amount of concrete you'll need, divide the length by 27. Then, multiply that figure by 10 to account for settling, heavy rains, and vehicles. Concrete Driveway requires adequate support, including steel reinforcing or ground preparation. It works best on undisturbed soil, and you can also use crushed stone material for the base.
Another factor that can affect the quality of your concrete driveway is its foundation. If you have a sloping site, the foundation of your driveway will be unstable and may crack or collapse. Trees can also affect the strength and stability of your driveway. Big trees have creeping roots, which can push upwards and cause cracks in the concrete. It is therefore imperative that you choose a foundation that is stable and has a low risk of cracking.
When it comes to curb appeal, concrete driveways are a perfect choice. These driveways can be enhanced with landscaping and mulch. Decorative concrete is also available, making the driveway even more attractive. Concrete driveways can be installed in many different textures, colors, and finishes, adding a personal touch to your home. If you are thinking of installing a new concrete driveway, contact us today!
A properly-placed control joint will reduce the likelihood of random cracking and extend the service life of the driveway. Control joints should be spaced at least 10 feet apart, for a four-inch-thick concrete slab. Random cracks will not cause structural failure, but they will reduce the aesthetic value of your driveway. Control joints should be hand-tooled or saw cut to a depth equal to one-fourth of the slab's thickness.
Prices of concrete driveways vary. A single-car driveway ten by 20 feet may cost between $800 and $1,600. For larger driveways, 24-foot by 24 feet, the cost may reach up to $2,300. Concrete is also a renewable resource and can last up to half a century. It absorbs less heat than asphalt, making it cool to walk on in the summer. On average, concrete driveways cost about $3 to $10 per square foot.
While a simple poured concrete driveway doesn't require any reinforcement, reinforced concrete can withstand much heavier loads than a plain concrete slab. The reinforcement can be installed by installing a rebar or wire mesh over the pour site. You can also buy a special concrete wire mesh for reinforcement. This will help the concrete spread its weight over the entire area and increase its strength. In either case, it is important to follow all the directions of the manufacturer to ensure a durable driveway.
Another important consideration when laying a concrete driveway is the thickness. For residential driveways, four inches is the minimum thickness. If you plan to drive a large vehicle, it is recommended to use a thicker pavement. The thicker the concrete slab, the higher its load-carrying capacity. Another factor is thick edges. Four to eight inches of concrete around the edges can provide additional structural support. However, they may cost you a few extra dollars.
Another great benefit of a concrete driveway is its durability. Unlike asphalt, concrete is a low-maintenance material and requires little to no maintenance. Although you may have to do some light washing to keep the surface clean, it will last a long time. You may also want to consider a sealant to protect it from stains and prevent future damage. If you want to enhance your curb appeal, concrete may be the way to go. It will improve your home's curb appeal and increase your property value.